A multiple-choice questionnaire allows the projects to be positioned in the value chain: the answer to the first question conditions the display of the following question and answers enabling the researcher to advance up the chain.
You can use BMK TOOLS® in different ways, according to your specific needs:
1/ Complete the form to position your project, on your own, without asking the BMK TOOLS® team for assistance
2/ Complete the form and ask the BMK TOOLS® for support. We will assess your needs.
If your project is positioned in the first stages (before proof-of-concept), the BMK TOOLS® team, with your valorisation cell, will answer your questions
If your project is more mature or has specific needs (technological, regulatory …), we will bring together experts from within our network and organise a panel to provide you with more in-depth expertise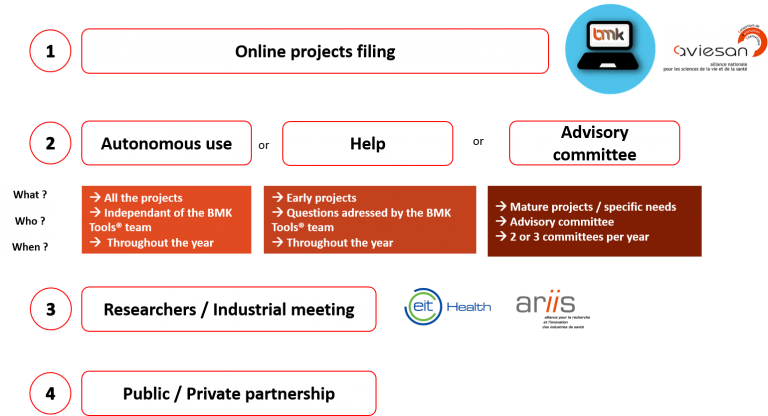 Panel of experts:
With the reference technology transfer office (TTO), the panel will be composed of 5-10 experts who will be selected in relation to the needs of the project
For example, experts from:

industry,
non-profit sectors,
IP, regulatory, technological,
clinicians available to accompany the project from the beginning to the end

Signature of confidentiality agreements, conflict of interest management
Assessment criteria:

Degree of projet maturity
Scientific importance/excellence (preliminary results, clinical relevance, feasibility)
Clinical and regulatory impact
Potential to generate numerous stakeholders (financial support, target partners/interested/recommended)
The site is secured: a login and password will be provided per project.